Referee Checklist

PreGame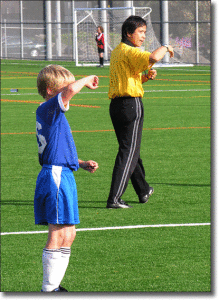 1. Must Inspect goal posts, nets, corner flags, and field for safety and proper markings. Must look for other hazards that can be corrected before the game (e.g., debris, glass, rocks, holes, sprinkler heads). Posts must be secured.
2. Must inspect players equipment and verify identity of players and team officials present, using player and coach passes and the rosters on the official game card. Absent players should be crossed off pre-printed rosters.
3. Based on inspections, report any unusual or noteworthy playing conditions on the Game Card.
4. Point out to team officials where the coach, substitutes, players, and spectators must remain during the game (ie., 3 feet back from touch line, all to one side of the half line, away from the corners and goal area).
5. Conduct pre-game meeting with Assistant Referees or instruct parents who will signal with flags when the ball leaves the field (fully crossing the touch line or goal line).
6. Keep team Passes and Game Card in your possession or equipment bag until the game is over.
During The Game
1. Promote enjoyment and remind all participants to maintain a positive attitude.
2. Record time, goals, cautions, and send offs on the Card.
3. Stop the game for appropriate substitutions or any injuries.
4. Explain infractions to players (U10 only).
After The Game
1. Center referees should make sure they have all information required to file their online report of the game as explained under Match Reporting Instructions on the Referee Pay referee page. Read this material now.
2. Write the final score on the Game Card and any other information that had a bearing on the game. Must sign the card and make sure assistant referees and coaches have signed the game card.
3. Return Passes to the coaches, except any passes needed for Referee's 24-hour Report on offenders who were sent off. Retrieve any loaned flags. Return game ball.